News:
I am now a resident artist at Box 13 ArtSpace! Box 13 is an artist run nonprofit innovative environment for the creation and advancement of experimental contemporary art in Houston, Texas. It's very exciting to have a dedicated studio space (shared with Justin Garrett), and to join the Box 13 community.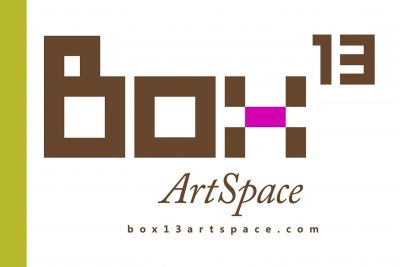 ---
In April I presented Sea of Oil to the Photography and Digital Media department at the University of Houston.
***
Artist Laura Napier will speak about her project Sea of Oil
9:30 AM Tues April 12 RM 218
Sea of Oil focuses on ways that oil and gas industries intersect with everyday life, as we are faced with massive climate change. Sea of Oil is shaped by gathering stories and objects through personal exchange with industry workers and their families, to build an archive for the post-oil future.
Pumpjacks, pipelines, refineries, oil tankers, and offshore rigs are massive and ubiquitous in the Texan landscape. Oil also permeates everyday life. The economy of Houston is built on oil, and nearly everyone in the region works in it or has some connection through a family member.  However, due to the nature of the oil industry, participants in the project so far have preferred to remain anonymous, and identifying information from interviews and materials is removed.
A Sea of Oil will be exhibited as objects, transcripts, video, and photographs. The installation will be inspired by the small, volunteer-run regional oil museums that dot Southeast and Central Texas.
Join artist Laura Napier for a frank discussion of a project in-process, ways and means of project support, and on other artists working in the same field.
---
Sea of Oil is now featured on Creative Capital's On Our Radar.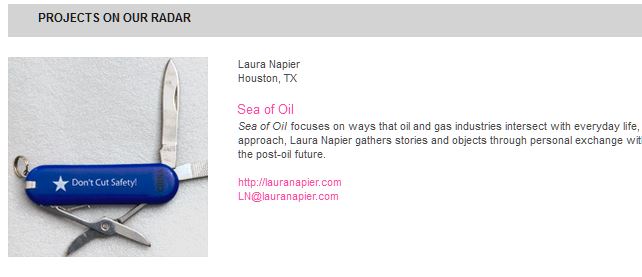 On Our Radar is a searchable database featuring nearly 300 Emerging Fields, Literature and Performing Arts projects that advanced to the second or third round in last year's highly competitive award selection process. Projects are on view through September 30, 2016.
---
Laura Napier, Report from Houston is now live on the Las Vegas art blog Settlers + Nomads.
Settlers and Nomads is a collaborative work in progress that serves as a point of access to a network of contemporary artists, thinkers and projects with ties to Las Vegas, Nevada. The "Settlers" live and work in Las Vegas, while the "Nomads" have roots elsewhere. Most of the nomads are friends and colleagues who lived in Vegas at an earlier point and time, while others were just stopping through. All have glitter and dust on their boots and have been influenced or inspired in some way by this unique place we call home or pit stop, drawn to Las Vegas' visual and cultural history and context and the surrounding southwestern landscape, Dave Hickey's "the bottom of the sky." In addition to linking to artists' websites or blogs, the site also serves as a shout out to contemporary art spaces, projects and other cultural destinations and websites we're fond of or involved with. We offer curated studio visits and welcome collaborations with other artists and organizations.
Publisher Wendy Kveck is an artist, educator and curator who has lived and worked in Las Vegas for sixteen years. Please share inquiries, links, news, or Las Vegas art history with wendy@settlersandnomads.com. All content on this site is copyrighted by the respective artists and contributors.
---
Sea of Oil is now supported by a Spark grant from the Idea Fund, a re-granting program in Houston administered by DiverseWorks, Aurora Picture Show, and Project Row Houses and funded by The Andy Warhol Foundation for the Visual Arts. More information at www.theideafund.org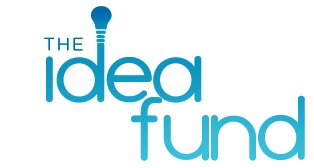 ---
Recent:
Video from Sea of Oil was included in the next Synthetic Zero at BronxArtSpace from December 9 – 19, 2015.
For many years Mitsu has made an open, experimental space for any kind of artist, especially emerging artists who have little experience in showing, and those who work with performance, media and video, to try out new ideas, first in Portland and now in NYC in the Bronx. The first time I participated was in 2005.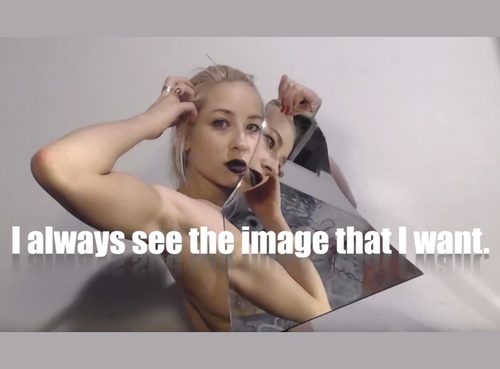 Synthetic Zero
BronxArtSpace
305 E 140th Street #1 Bronx, NY 10454
December 12, 7-10pm, 2015
The next Synthetic Zero Event will be December 12, 7-10pm, 2015 at BronxArtSpace, only 20 minutes from Union Square. The show includes performance, video and interactive installations, video screenings, sculpture, prints, and collages. The show will also be on view until January 9, 2016, during regular gallery hours (except between Christmas and New Year's)
The Synthetic Zero events are a series of art events focusing on high quality experimental and contemporary work in different media. We often do not have a specific theme for each event but instead a theme emerges from the interaction between submitted work and curatorial interests. By working this way, the events reflect back the dialogue and practice of artists involved combined with a curatorial direction that comes from the moment, and we create evocative encounters for the audience.
Performances:
Art/Installations:
Erica Lapadat-Janzen – Heather Anne Halpert – Amy Bassin – Laura Napier – Mark Ramos – Brad Tober – Snow Yunxue Fu – Daniel Miller – Aaron Higgins – Aaron Oldenburg – Kseniya Linov – Elena Garnelo – Robert Spahr – Michael Demers – Philippe Roy – Jürgen Trautwein
Video Screenings:
Tomorrow Girls Troop – Laura Kim – Christina Maria Smiros – Sandrine Deumier – Dennis Miller – Erica Lapadat-Janzen – Liliana Farber – Matthew Dombrowski – Sandra Araújo – Nick Bontrager – Patrick Moser
---
A photograph from Sea of Oil was in Debtfair at Art League Houston, a collaborative project that creatively devises structural and visual ways to address the enormous debt burden most of us carry.
Also, my Sea of Oil image was featured in a post on Glasstire, "Debtfair is All About Art and Here's Why", by Noah Fischer and Kenneth Pietrobono.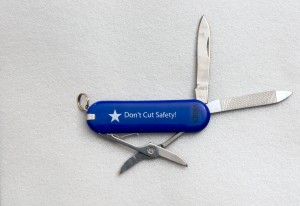 DEBTFAIR
Exhibition dates: November 20, 2015 – January 11, 2016
Opening reception: Friday, November 20, 6-9 PM
ALH Main Gallery I Artist talk at 6:30 PM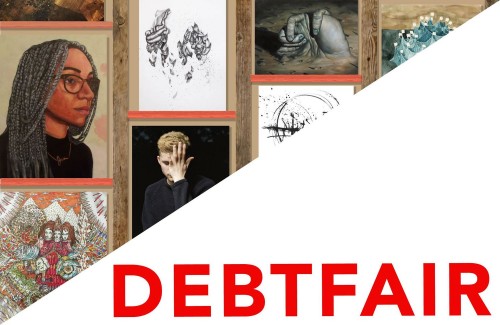 Art League Houston
1953 Montrose Blvd.
Houston, Texas 77006
(located next to Texas Art Supply)
Gallery Hours
Tuesday-Friday: 9:00 AM – 5:00 PM
Saturday: 12:00 PM – 5:00 PM
Sunday-Monday: Closed
In collaboration with artists from Occupy Museums, Art League Houston is excited to present Debtfair, an exhibition which aims to expose the relationship between economic inequality in the culture industry and artists' growing debt burdens. The exhibition features work from sixty Texas-based artists who responded to an open call inviting artists to submit artworks that are of equal relative value to their monthly debt payment. The works in this exhibition represent a collective debt of over $3 million dollars, with interest rates ranging from zero using income-based repayment plans to as high as 19%.
---
My video, Emilio Sanchez and the Bronx, was on view at the Lehman College Art Gallery in the exhibition EMILIO SANCHEZ, From The Bronx Museum Permanent Collection, September 16, 2015 – January 5, 2016, and was mentioned in the Riverdale Press.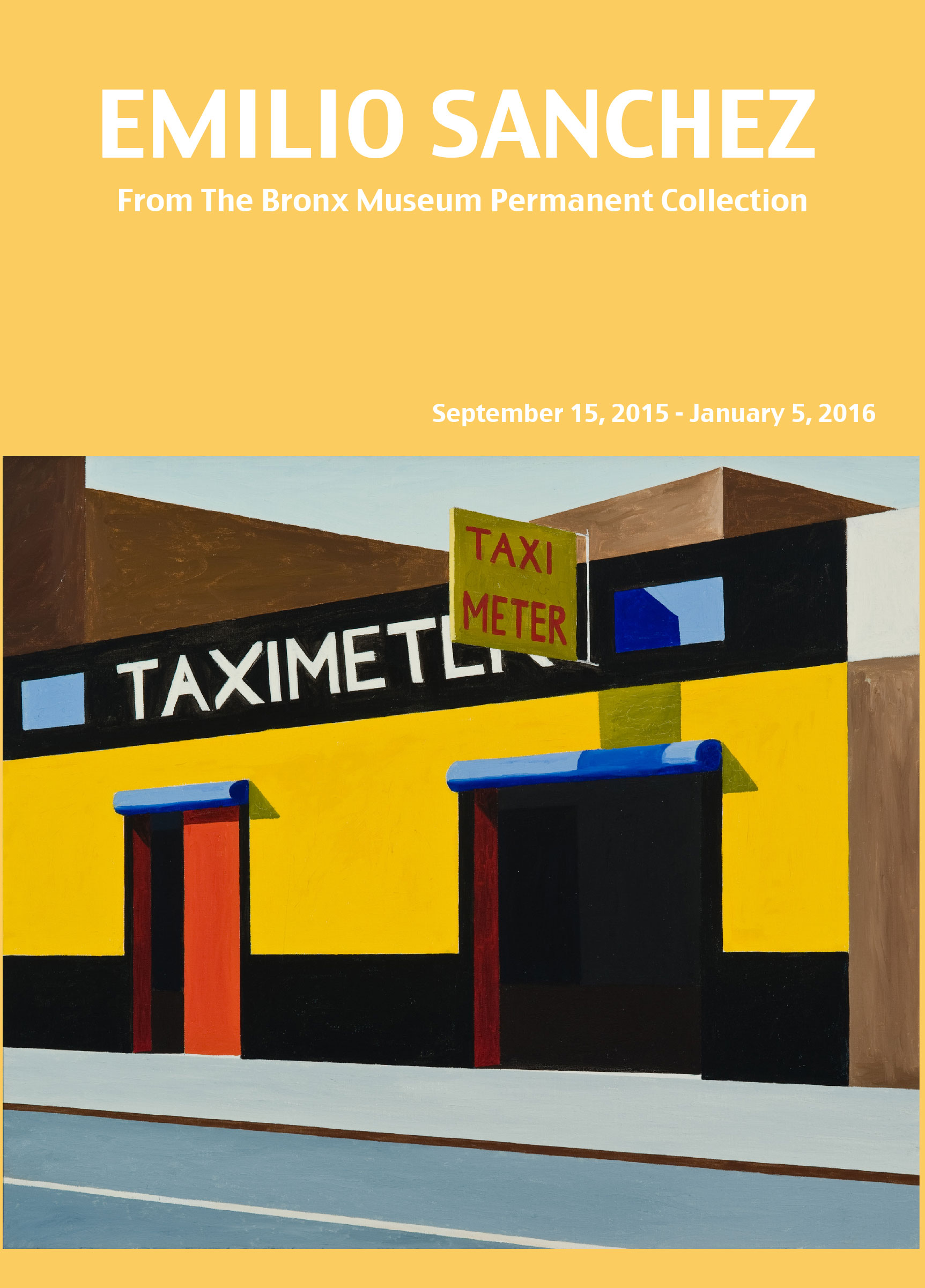 Lehman College Art Gallery
250 Bedford Park Boulevard West, Bronx, N.Y. 10468-1589
Gallery hours: Tuesday to Saturday 10 am to 4 pm
Admission is always free
---
project for a street corner (Yankees) was on view in the NLE Curatorial Lab group exhibition Intersecting Imaginaries.
LOCATION: 900 Grand Concourse (at 161st Street), Bronx, NY
OPENING RECEPTION: Thursday, November 19, 7–10pm
ON VIEW: November 20–December 13, 2015
VIEWING HOURS: Wednesday–Friday, 2–8pm; Saturday & Sunday, 12–6pm
A culminating exhibition of the Fall 2015 NLE Lab, curated by Natasha Bunzl, Dalaeja Foreman, Paola Gallio, Mary Kay Judy, Eva Mayhabal-Davis, Lindsey O'Connor, Walter Puryear, and Emilia Shaffer-Del Valle.
A site-responsive exhibition including sculpture, photography, installation, video, works on paper, and commissioned works by Bronx-based and tri-state area artists, Intersecting Imaginaries considers mapping as a method for understanding place, time, and identity.
The title of the exhibition is borrowed from the philosophical concept of the social imaginary, which considers community to be composed of human interaction and perceived connection. Intersecting Imaginaries melds this abstract understanding with an acknowledgement of external circumstance, presenting a constellation of works that speak to memory and lived experience as composite parts of a map and as the binding fibers of community.
Facing the Bronx Supreme Courthouse, and mere blocks from Yankee Stadium, the storefront sits at a highly frequented intersection of the South Bronx. These renowned sites carry singular stories, arousing an incomplete understanding of a diverse borough. The lives and places that are present alongside these commanding landmarks are vital to the cultural and sociopolitical discussion of the exhibition. The site has served many functions: it was once a ballroom as part of the Concourse Plaza Hotel, a diner, a thrift store, and now stands empty, sharing walls with housing provided by the Mid-Bronx Senior Citizens Council. Remnants of its former lives are evident in the raw space, serving as inspiration and context for works that navigate body politics, racial identity, communities in flux, and the natural environment as both separate and intersecting realities.
In conjunction with the exhibition, a series of public programs will explore a complex vision of the culture and the current environment of the South Bronx, while drawing parallels across all five boroughs and to cities around the world.
ARTISTS:  Elia Alba / Arthur Avilés and Nicolás Dumit Estévez / Bronx Photo League / Linda Cunningham / Josué Guarionex / Giorgio Giudi / Ariel Jackson / So Yoon Lim / Laura Napier / Anne Percoco and Ellie Irons / Amy Pryor / David Shrobe / Manuela Viera-Gallo
---
---
I restaged This area will be photographed for Art in Odd Places: Recall in October, and the performance was mentioned in the Town & Village blog.

---
I showed new  work from Sea of Oil at La Mama Galleria in NYC in October, in the group exhibition 39×17, curated by Elise Gardella.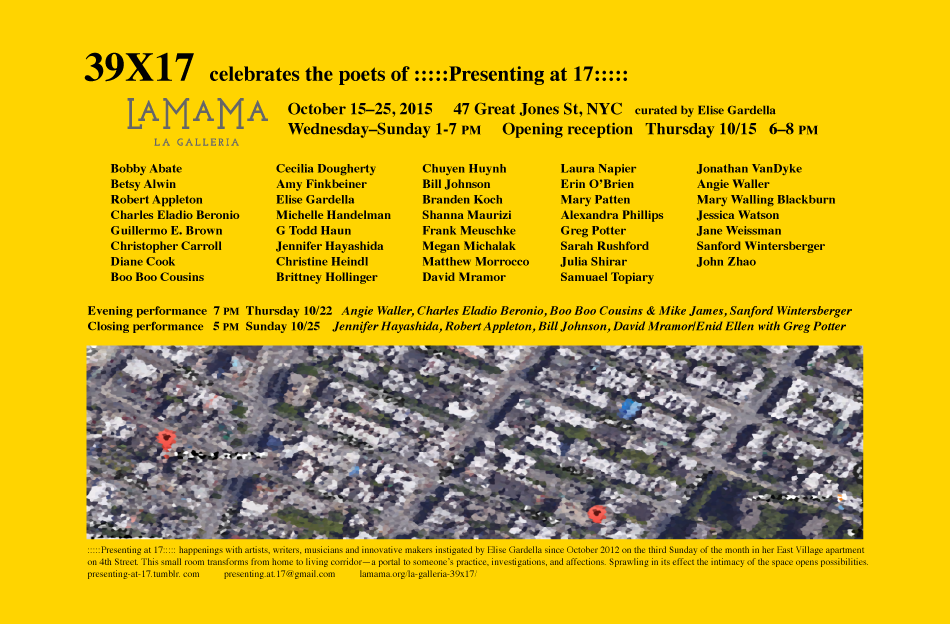 La Galleria: 39X17
October 15 – October 25, 2015
Gallery Hours: Wednesday to Sunday 1 to 7PM, or by appointment
La MaMa Galleria | 47 Great Jones St.
Curated by Elise Gardella
In La Galleria, 39X17 celebrates the all the poets of ::::Presenting at 17::::: happenings with artists, writers, musicians, and innovative makers instigated by Elise Gardella on the third Sunday of the month since October 2012 in her East Village apartment on 4th Street. This small room transforms from home to living corridor—a portal to someone's practice, investigations, and affections. Sprawling in its effect the intimacy of the space opens possibilities.
http://lamama.org/la-galleria-39×17/

I co-curated, with Hatuey Ramos-Fermín,  the exhibition
Bronx Calling: The Third AIM Biennial
,  on view at The Bronx Museum of the Arts from July 9 to September 20, 2015. I also contributed an
essay
to the accompanying catalog.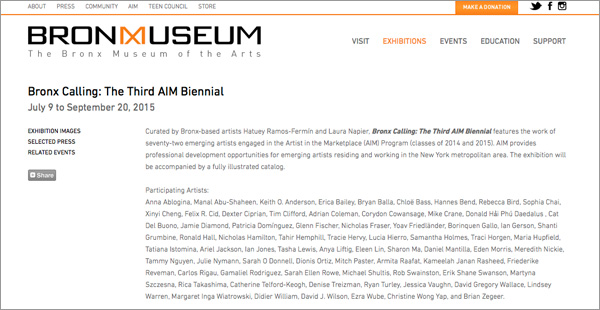 Curated by Bronx-based artists Hatuey Ramos-Fermín and Laura Napier, Bronx Calling: The Third AIM Biennial features the work of seventy-two emerging artists engaged in the Artist in the Marketplace (AIM) Program (classes of 2014 and 2015). AIM provides professional development opportunities for emerging artists residing and working in the New York metropolitan area.
Participating Artists:
Anna Ablogina, Manal Abu-Shaheen, Keith O. Anderson, Erica Bailey, Bryan Balla, Chloë Bass, Hannes Bend, Rebecca Bird, Sophia Chai, Xinyi Cheng, Felix R. Cid, Dexter Ciprian, Tim Clifford, Adrian Coleman, Corydon Cowansage, Mike Crane, Donald Hải Phú Daedalus , Cat Del Buono, Jamie Diamond, Patricia Domínguez, Glenn Fischer, Nicholas Fraser, Yoav Friedländer, Borinquen Gallo, Ian Gerson, Shanti Grumbine, Ronald Hall, Nicholas Hamilton, Tahir Hemphill, Tracie Hervy, Lucia Hierro, Samantha Holmes, Traci Horgen, Maria Hupfield, Tatiana Istomina, Ariel Jackson, Ian Jones, Tasha Lewis, Anya Liftig, Eleen Lin, Sharon Ma, Daniel Mantilla, Eden Morris, Meredith Nickie, Tammy Nguyen, Julie Nymann, Sarah O Donnell, Dionis Ortiz, Mitch Paster, Armita Raafat, Kameelah Janan Rasheed, Friederike Reveman, Carlos Rigau, Gamaliel Rodriguez, Sarah Ellen Rowe, Michael Shultis, Rob Swainston, Erik Shane Swanson, Martyna Szczesna, Rica Takashima, Catherine Telford-Keogh, Denise Treizman, Ryan Turley, Jessica Vaughn, David Gregory Wallace, Lindsey Warren, Margaret Inga Wiatrowski, Didier William, David J. Wilson, Ezra Wube, Christine Wong Yap, and Brian Zegeer.
---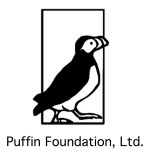 My new project in research phase, A Sea of Oil, has just been supported by the Puffin Foundation! This spring I have been spending time in Beaumont/Nederland/Port Arthur, Baytown, and Houston in southeast Texas, learning about the intersection of everyday life and petrochemical industry.
---
I co-organized a talk for 1040 Lounge at the Bronx Museum of the Arts on Thursday, September 3rd.
Artist in the Marketplace (AIM) Bronx Calling co-curator Hatuey Ramos-Fermín, Bronx-based AIM artists Lucia Hierro and Tracie Hervy, and Christine Licata, Director of Performing and Visual Arts at Casita Maria, and myself discussed Bronx artistic production. Moderated by Danielle Jackson.
---
One-offs, a solo exhibition curated by Moira Holohan of my collected ephemera from selected performances, was at Meetinghouse in Miami, Florida in early 2015.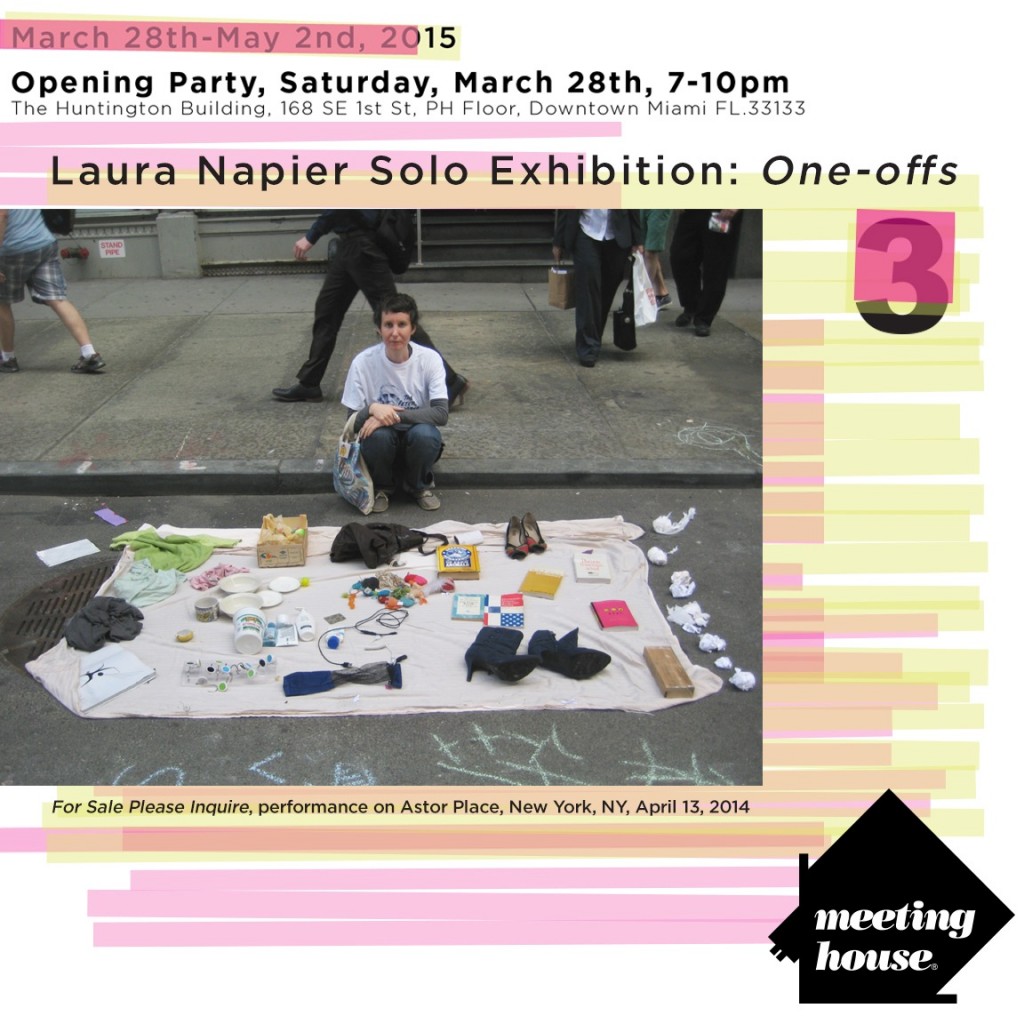 One-offs
March 28 – May 9, 2015
Meetinghouse
The Huntington Building, 168 SE 1st St, PH Floor, Downtown Miami
http://www.meetinghousemiami.org
---
I guest curated Dubbed: Lady K Fever for the project room of Longwood Art Gallery, Kathleena Howie's first solo exhibition in New York City.
Dubbed: Lady K Fever
February 4 – May 6, 2015
Laura Napier, Guest Curator
Longwood Art Gallery @ Hostos
450 Grand Concourse Bronx, NY 10454
718-518-6728
---
I designed an activity sheet for Christine Wong Yap's project, Make Things (Happen).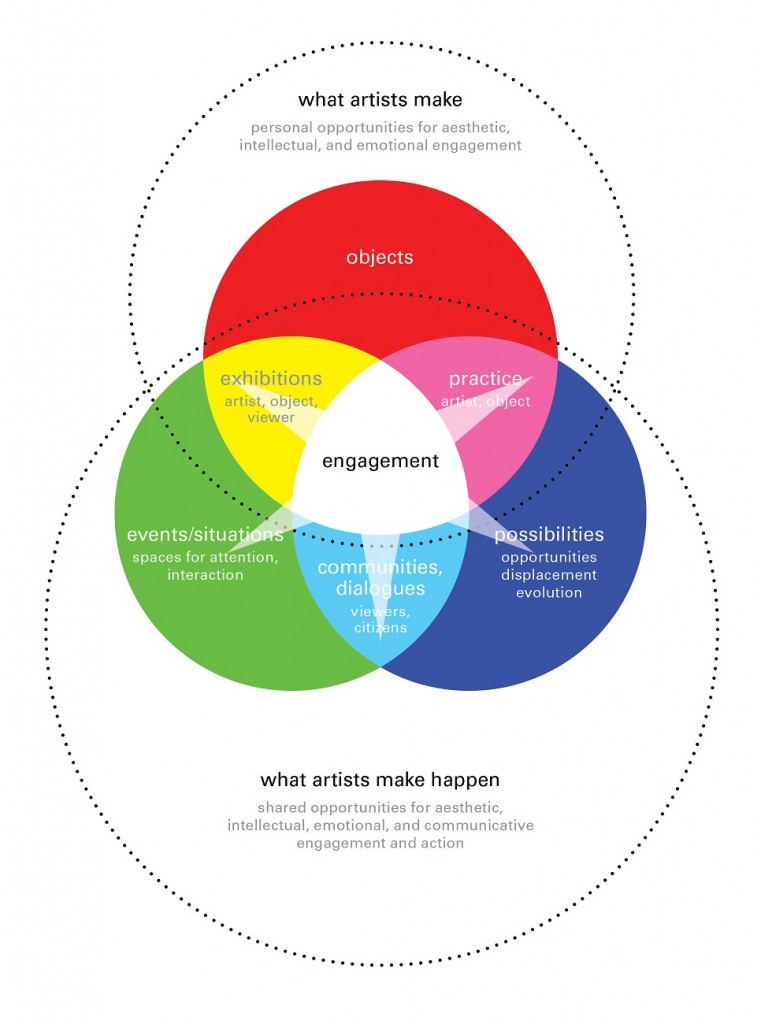 Make Things (Happen): Organized by Christine Wong Yap
February 4 – March 1, 2015

Interface Gallery
486 49th Street
Oakland, CA 94609
Make Things (Happen) is a participatory project organized by Christine Wong Yap that features over 40 artist-created activity sheets designed to guide participants in either making things or making things happen.Yap selected artists to highlight practices that are participatory, engaged with the world, and unconcerned with the demands of the art market. The artists work across social practice, drawing, sculpture, video, and performance, and hail from the Bay Area, New York, other parts of the US, and the UK, Canada, Poland, and India.
---
I discussed my performance of photographic consent, This Area Will be Photographed, during Promises, Promises, Promises at Triangle Arts Association in Brooklyn Thursday, December 11, from 7-9pm.
Promises, promises, promises refers to the three parties that determine the feasibility of a public/social artwork: 1. artists/curators, 2. organizations/art institutions and 3. brokers/insurance companies. Each makes promises, asks for promises, and represents assurance, liability, and risk differently. The event was co-organized by artist Dillon de Give and Triangle's curator-in-residence Natasha Marie Llorens. Presenters included artists Christopher Robbins, Laura Napier, and Jean Ann Douglass, the Program Director for Insurance at Fractured Atlas.
---
The social performance Happy Valley (2013) is documented in the forthcoming trade paperback Emergency INDEX Vol. 3, edited by Yelena Gluzman and Sophia Cleary.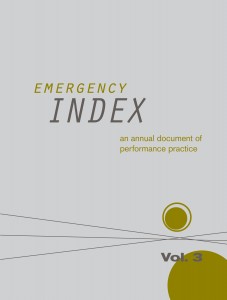 EMERGENCY INDEX: AN ANNUAL DOCUMENT OF PERFORMANCE PRACTICE, VOL. 3
Publication Date: January 1, 2015
The pages of Emergency INDEX are open to all who work with performance. In each annual volume, contributors document works made in the previous year. By including performances regardless of their country of origin, genre, aims, or popularity, INDEX reveals the breathtaking variety of practices used in performance work today. Each volume features a comprehensive index of key terms used by contributors in describing and discussing their own work. Begun in 2011, INDEX is a lens for seeing the field of contemporary performance from the ground up.
http://www.uglyducklingpresse.org/catalog/browse/item/?pubID=307
---
I participated in a discussion with Marlis Momber, Lisa Kahane, and Amy Westpfahl  at the new Loisaida Center on Wednesday October 15, 2014 at 710 East 9th Street & Ave C, New York, NY.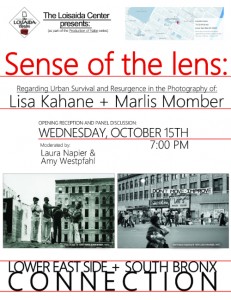 Sense of the Lens: Regarding Urban Survival and Resurgence in the Photography of Lisa Kahane + Marlis Momber
Simultaneously but unknown to each other, Lisa Kahane and Marlis Momber documented the life of people and places caught in cycles of urban disinvestment in the 70s and 80s in shattered, depopulated neighborhoods in the South Bronx and in Loisaida, a self-defined neighborhood of the Lower East Side in Manhattan. Both women remain involved in each community to this day. However, both areas are rendered unrecognizable today, due to successful rebuilding led by community groups and churches, homesteaders, and federal, state, and city assistance; shifting immigration patterns; and a new influx of capital. Through the twin lenses of photography and social practice, this discussion and exhibit will explore the conditions that catalyzed their unique views and engagement with these two symbiotic neighborhoods.
---
Objects and documentation from This Area Will be Photographed, a performance of photographic consent, included in The Artifacts, Art in Odd Places, Governors Island, Building 403, Colonel's Row, New York, NY September 13 – 28, 2014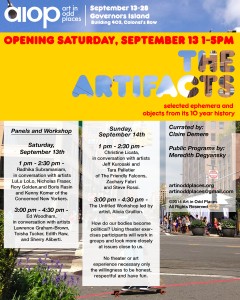 ---
Log included in Surveillapocalypse, FiveMyles, Brooklyn, NY, June 7 – 22, 2014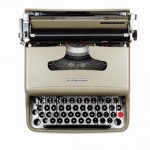 Surveillapocalypse
FiveMyles, 558 St Johns Place, Brooklyn, NY
Through Sunday, June 22, 2014
Gallery Hours: Thursday through Sunday 1-6pm or by appointment
http://www.fivemyles.org/surveillapocalypse
The show brings together Canada-based Native American collective 007 and Brooklyn-based art collective artCodex for  an exhibition on building trust between communities in the face of a security obsessed society amidst ever-increasing surveillance. The exhibition features the two collectives artcodex and OO7, with guest artists Oasa Duverney, Laura Napier, Joshua Peters, David Gregory Wallace, and Bryan Zimmerman.
---
A Sea of Oil and Happy Valley included in The Time Has Come, Longwood Art Gallery, Bronx, NY June 4 – August 16, 2014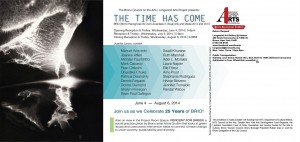 The Time has Come
Curated by Juanita Lanzo
BRIO (Bronx Recognizes Its Own) Awardees in Visual Art and New Media 2012 and 2013
Longwood Art Gallery, 450 Grand Concourse, Bronx, NY
Through August 6, 2014
Gallery Hours: Monday, Tuesday, Thursday, 12-5pm
Artists include Manuel Acevedo, Jeanine Alfieri, Michael Paul Britto, Mark Cabaroy, Firan Chisolm, Onyedika Chuke, Patricia Delahanty, Dennis Delgado, Donna Diamond, Sharyn Finnegan, Sean Paul Gallegos, Swati Khurana, Ruth Marshall, Adel L. Morales, Laura Napier, Elle Pérez, Amy Pryor, Stephanie Rodríguez, Hrvoje Slovenc, Jennifer Tomaiolo, and Randal Wilcox.